Elevate Your Soccer Game with Vizari: The Ultimate Choice for Soccer Gear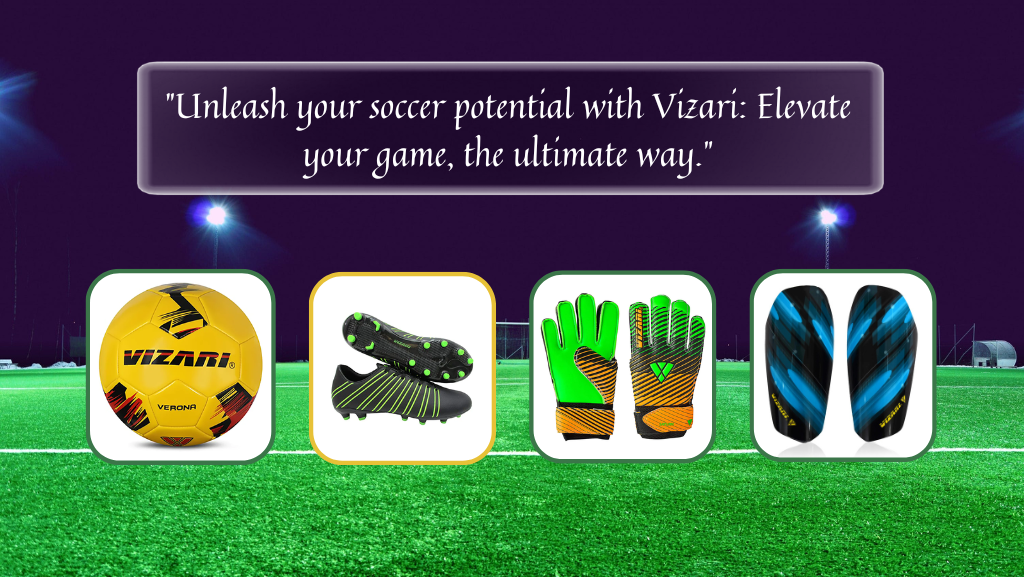 When it comes to soccer, the right
soccer equipment
can mean the difference between victory and defeat. Whether you're a seasoned pro or just starting on your soccer journey, having top-quality gear is essential. In this blog, we'll dive into the world of soccer gear, focusing on soccer cleats, goalkeeper gloves, soccer shin guards, and soccer balls. Plus, we'll explore why choosing and buying from Vizari.com is a game-changing decision for any soccer enthusiast.
1. Soccer Cleats: Precision in Every Step
Soccer cleats are the foundation of your game. They determine your speed, agility, and control on the pitch. Vizari understands the importance of these factors and offers a remarkable selection of cleats that cater to various playing styles. Whether you're a nimble forward or a rock-solid defender, Vizari has the perfect cleats to elevate your performance.
2. Goalkeeper Gloves: Confidence in Your Hands
For goalkeepers, gloves are more than just protection; they're an extension of their skills. Vizari's goalkeeper gloves are designed with grip, comfort, and durability in mind. With their range of gloves, you can confidently dive for those crucial saves and command your penalty area like a pro.
3. Soccer Shin Guards: Safety Meets Comfort
Protecting your shins is non-negotiable in soccer. Vizari's shin guards are engineered to offer maximum protection without compromising on comfort. They provide the peace of mind you need to go into tackles fearlessly, knowing your legs are shielded.
4. Soccer Balls: The Heart of the Game
The
soccer ball
is where every play begins and ends. Vizari's soccer balls are crafted with precision, ensuring consistent flight and bounce. Whether you're practicing your dribbling skills or taking a match-winning shot, Vizari soccer balls deliver the performance you demand.
Why Vizari.com?
Now, let's address the crucial question: Why should you choose and buy from Vizari.com?
1. Unparalleled Quality
Vizari has built a reputation for excellence. Their commitment to quality means you get gear that's built to last. You can trust that your Vizari equipment will perform reliably, season after season.
2. Extensive Selection
Vizari.com offers an extensive range of soccer gear. From cleats that cater to different playing surfaces to gloves that suit various weather conditions, Vizari has all your soccer needs covered. Shopping at Vizari.com means you can assemble your entire soccer kit in one place.
3. Innovation in Every Detail
Soccer is a sport that continually evolves. Vizari stays at the forefront of innovation, incorporating the latest technology into their gear. When you choose Vizari, you're choosing equipment that gives you a competitive edge.
4. Trusted by Professionals
Vizari's gear isn't just for amateurs; it's trusted by professional soccer players worldwide. When you wear Vizari, you're in good company, aligning yourself with athletes who demand the best.
5. Affordable Excellence
Quality soccer gear doesn't have to come with a hefty price tag. Vizari believes that everyone should have access to top-notch equipment, and their prices reflect this commitment to affordability.
In conclusion, your soccer gear plays a pivotal role in your performance on the field. Choosing Vizari.com for your soccer cleats, goalkeeper gloves, soccer shin guards, and soccer balls is a decision that can elevate your game to new heights. With Vizari, you're not just buying gear; you're investing in precision, confidence, and excellence. Don't settle for anything less than the best. Visit Vizari.com today and experience soccer gear that's designed to make you a better player.