Unveiling Top-Quality Goalkeeping Jerseys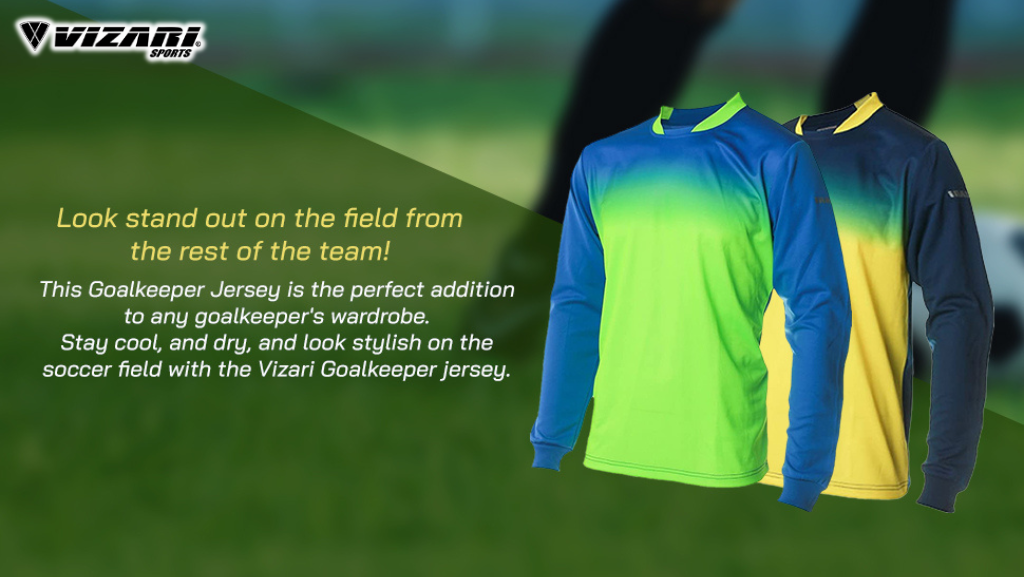 In the heart of every successful soccer team lies a skilled goalkeeper, and behind every remarkable goalkeeper stands a reliable and high-quality goalkeeper jersey. At Vizari, we take pride in presenting our exclusive line of goalkeeper jerseys: the Arroyo Goalkeeping Jersey in vibrant Orange/Navy, the Vallejo Goalkeeper Jersey in stylish Orange/Black, the Venezia Goalkeeping Jersey in bold Orange/Black, and the Corona Goalkeeping Jersey in dominant Green/Black.
Arroyo Goalkeeping Jersey: Confidence in Every Save
The Arroyo Goalkeeping Jersey is more than just sportswear; it's a testament to confidence and precision. Crafted from premium materials, this jersey offers exceptional durability and flexibility. Its vibrant Orange/Navy design not only catches the eye but also signifies the goalkeeper's fearless spirit. With strategic ventilation and a comfortable fit, Arroyo empowers goalkeepers to make crucial saves while feeling confident and cool throughout the game.
Vallejo Goalkeeper Jersey: Style Meets Substance
In the world of goalkeeping, style should never compromise functionality. The Vallejo Goalkeeper Jersey strikes the perfect balance between fashion and performance. Its Orange/Black combination exudes style, while the jersey's high-quality fabric ensures optimum flexibility and resilience. Goalkeepers wearing Vallejo not only look great on the field but also experience unparalleled comfort and freedom of movement, allowing them to focus solely on their game.
Venezia Goalkeeping Jersey: Unleash Your Potential
The Venezia Goalkeeping Jersey is a symbol of ambition and determination. Designed in bold Orange/Black, this jersey is a statement of intent on the soccer field. It's more than just an outfit; it's a mindset. With its moisture-wicking technology and ergonomic design, Venezia enables goalkeepers to perform at their peak, even during the most intense matches. Every dive, every block, and every save is amplified when wearing Venezia.
Corona Goalkeeping Jersey: Dominate the Game
For goalkeepers who demand dominance, the Corona Goalkeeping Jersey in striking Green/Black is the ultimate choice. Crafted for power and control, this jersey provides excellent grip and maneuverability. The fierce Green/Black design reflects the goalkeeper's authority on the field. With Corona, goalkeeper Jersey can confidently command their area, ensuring that no shot goes unanswered.
Available in Youth and Adult Sizes: Perfect Fit for Every Player
Understanding that goalkeeper jerseys come in all sizes, our jerseys are available in two size ranges: Youth and Adult. Youth sizes cater specifically to kids, boys, and girls, ensuring a comfortable and secure fit for our young soccer enthusiasts. On the other hand, our Adult sizes are tailored to fit men and women perfectly. providing maximum comfort and style for experienced goalkeepers, allowing you to focus entirely on your game.
Conclusion: Unleash Your Inner Champion with Vizari Goalkeeper Jerseys
In conclusion, Vizari - Arroyo, Vallejo, Venezia, and Corona Goalkeeping Jerseys are more than just sportswear; they are instruments of excellence. Every thread is woven with passion and expertise, ensuring that goalkeepers perform at their best on the field. Elevate your goalkeeping experience, boost your confidence, and dominate the game with Vizari's top-of-the-line goalkeeper jerseys.
Claim Your Victory Today!
Ready to experience the difference? Visit Vizari now and explore our extensive range of goalkeeper jerseys. Choose the jersey that resonates with your style, size, and spirit. Don't just be a goalkeeper; be a champion. Dominate the field with Vizari Goalkeeper Jerseys.