Elevate Your Game with Vizari Soccer Balls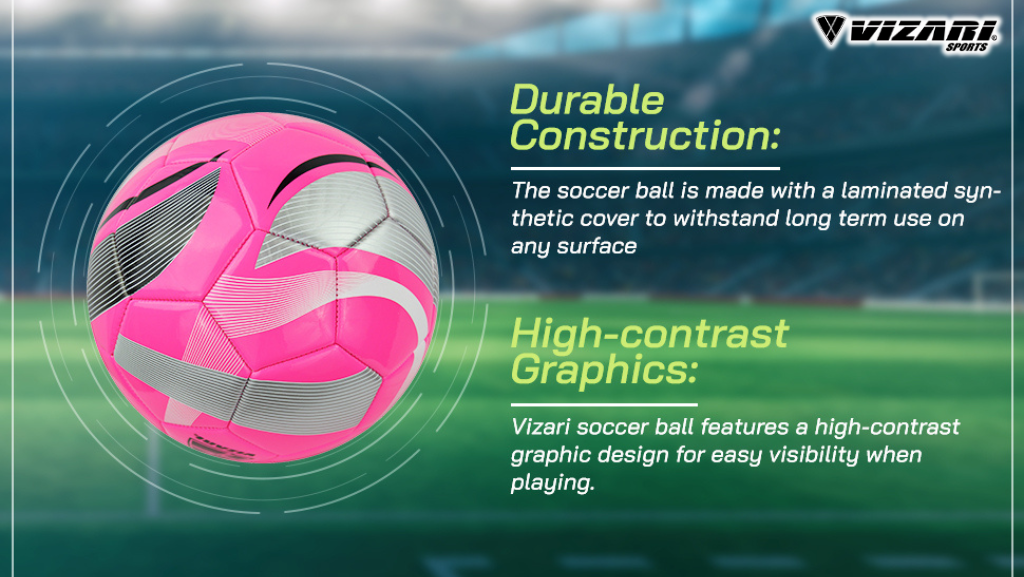 Soccer, the world's most beloved sport, is not just a game; it's a passion that unites players and fans across the globe. At Vizari, we understand the significance of a quality soccer ball in enhancing the playing experience. Our range of soccer balls is meticulously crafted to meet the highest standards of performance and durability. Let's dive into the introductions of our featured soccer balls: the Classico Soccer Ball in White/Black/Silver, the Sport USA Odyssey Soccer Ball in vibrant Yellow, the Hydra Soccer Ball in passionate Red, and the Blossom Soccer Ball in delightful Blue/Pink.
1. Classico Soccer Ball: Timeless Elegance, Superior Performance
The Classico Soccer Ball in White/Black/Silver is a true classic, exuding timeless elegance and exceptional quality. Its durable construction ensures consistent performance on the field, making it the choice of champions. With superior grip and precision, this ball enhances players' control and accuracy, allowing for impressive passes and powerful shots. Experience the essence of soccer tradition with Classico.
2. Sport USA Odyssey Soccer Ball: Brighten Your Game
Designed to stand out, the Sport USA Odyssey Soccer Ball in vibrant Yellow adds a touch of sunshine to every match. Its eye-catching color is not just for show; it represents the energy and enthusiasm of the game. Crafted with advanced materials, this ball offers excellent responsiveness and durability. Whether you're training or competing, Sport USA Odyssey elevates your game and brightens your soccer journey.
3. Hydra Soccer Ball: Unleash Your Power
In passionate Red, the Hydra Soccer Ball is a symbol of strength and determination. Built for power players, this ball features a reinforced bladder for enhanced air retention and shape retention. Its textured surface provides superior grip, ensuring optimal ball control in all weather conditions. Unleash your inner power and dominate the field with Hydra.
4. Blossom Soccer Ball: Play with Joy
The Blossom Soccer Ball in delightful Blue/Pink embodies the joy of playing soccer. Its playful colors inspire creativity and teamwork, making it an ideal choice for youth players. Crafted with soft yet durable materials, this ball is perfect for learning and practicing skills. Blossom encourages young athletes to embrace the game with enthusiasm, fostering a lifelong love for soccer.
5. Available in Three Sizes: Tailored to Fit Every Player
Understanding that soccer players come in different ages and skill levels, our soccer balls are available in three size ranges: Size 3, Size 4, and Size 5. Size 3 soccer balls are ideal for young players, offering easy handling and control. Size 4 soccer balls are suitable for intermediate players, providing a balance of size and weight. Size 5 soccer balls meet professional standards, catering to advanced players seeking precision and power. No matter your age or expertise, Vizari ensures a perfect fit for an unparalleled soccer experience.
6. Benefits of Vizari Soccer Ball: 
Superior flight stability

Exceptional control

Durable and reliable performance

Swift and accurate passes

High visibility on the field

Energizing gameplay experience

Optimal shape and air retention

Enhanced grip and ball control

High durability for long-lasting performance

Gentle touch for beginners

Encourages creativity and teamwork

Durable construction for prolonged use
7. Conclusion: Play Your Best Game with Vizari Soccer Balls
In conclusion, Vizari's Classico, Sport USA Odyssey, Hydra, and Blossom Soccer Balls are more than sports equipment; they are companions in your soccer journey. Whether you're a beginner or a seasoned athlete, our soccer balls are designed to enhance your skills, elevate your performance, and bring joy to your game. Play your best game with Vizari.
8. Elevate Your Soccer Experience Today!
Ready to kick-start your soccer journey or enhance your game? Visit Vizari now and explore our wide range of soccer balls. Choose the ball that suits your style and level of play. Don't just play soccer; play with passion and precision. Elevate your soccer experience with Vizari Soccer Balls.