Vizari: The Ultimate Soccer Online Store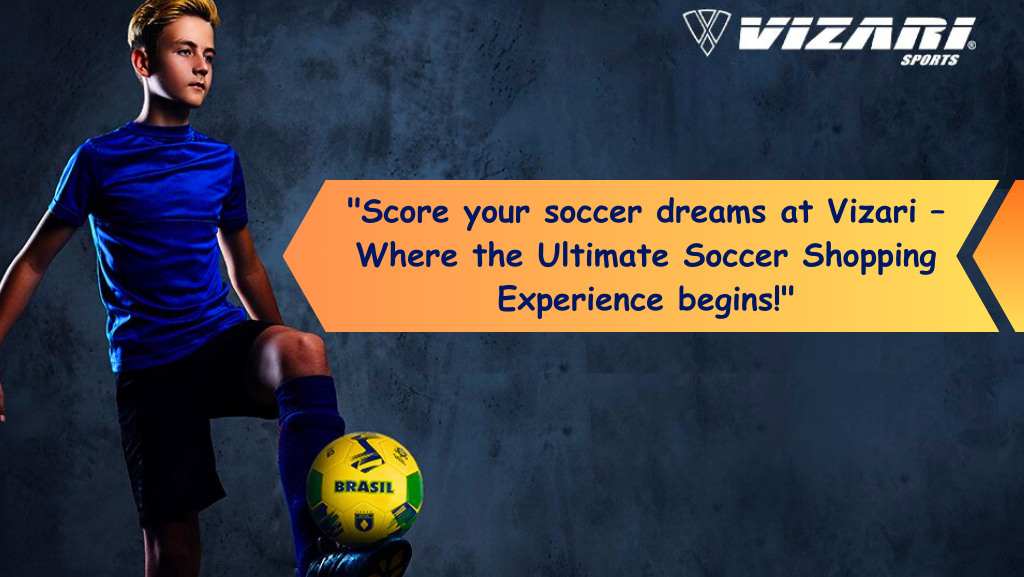 Are you a soccer enthusiast looking for the perfect place to shop for all your soccer needs? Look no further! Vizari is here to revolutionize your soccer shopping experience. In this blog post, we'll take you on a journey through the world of Vizari, the ultimate soccer online store. Get ready to score big in style and convenience!
The World of Vizari
Vizari isn't just your ordinary online store; it's a soccer haven. Whether you're a seasoned player, a budding talent, or a soccer fan, Vizari has something special in store for you. Let's explore what makes Vizari the go-to destination for soccer enthusiasts.
Quality Meets Style
At the heart of Vizari's offerings lies the perfect blend of quality and style. When you shop at Vizari, you're not just buying soccer gear; you're investing in top-notch products that are designed to enhance your performance on the field. What's more, Vizari understands that looking good is part of playing well. That's why their products are not only high-quality but also stylish, allowing you to express your soccer passion with flair.
A Wide Range of Options
Vizari caters to all levels of soccer players, from beginners to professionals. Their extensive range of products includes jerseys, soccer cleats, accessories, and equipment. Whether you need a new pair of soccer shoes, a jersey of your favorite team, or a set of training cones, Vizari has you covered. Plus, they offer options for men, women, and kids, ensuring that the whole family can enjoy the game.
Affordable Excellence
One of the standout features of Vizari is its commitment to affordability. They believe that every soccer enthusiast should have access to high-quality gear without breaking the bank. Vizari's pricing reflects this philosophy, making it possible for players of all ages and skill levels to equip themselves for the game they love.
Why Choose Vizari?
With so many online stores competing for your soccer gear needs, you might be wondering, "Why should I choose Vizari?" Well, here are some compelling reasons:
1. Unmatched Quality
Vizari's dedication to quality is second to none. Their products are rigorously tested to meet the highest standards of durability and performance. When you shop at Vizari, you can trust that you're getting the best.
2. Style That Sets You Apart
Soccer isn't just a sport; it's a lifestyle. Vizari understands this and offers products that not only perform well but also make a statement. Show off your passion for soccer with gear that stands out on and off the field.
3. Variety for Every Player
Whether you're a striker, a goalkeeper, or a midfielder, Vizari has specialized gear to suit your position and playing style. Their wide selection ensures that you can find the perfect match for your needs.
4. Family-Friendly Shopping
Vizari is a one-stop shop for the whole family. No need to visit multiple stores to outfit everyone; you can find gear for men, women, and children all in one place.
5. Affordable Prices
Your love for soccer shouldn't strain your budget. Vizari's competitive prices make it possible for you to gear up without spending a fortune.
The Vizari Shopping Experience
Shopping at Vizari is a breeze. It is easy to navigate their user-friendly website and browse through their extensive product catalog. You can filter products by category, size, and price, ensuring that you find exactly what you're looking for. Plus, their secure payment options and reliable shipping make your shopping experience stress-free.
Vizari: More Than Just a Store
Vizari is more than just a soccer online store; it's a community. When you shop at Vizari, you're joining a network of passionate soccer enthusiasts who share your love for the game. It's a place where you can connect with like-minded individuals, get tips on improving your skills, and stay updated on the latest soccer trends.
The Future of Soccer Shopping
As the world of e-commerce continues to evolve, Vizari remains at the forefront of innovation. They are constantly improving their website and expanding their product offerings to meet the ever-changing needs of soccer players and fans. When you choose Vizari, you're not just shopping for today; you're investing in the future of soccer.
Conclusion
In conclusion, Vizari is more than just a soccer online store; it's a destination for soccer enthusiasts looking for quality, style, affordability, and a sense of community. Whether you're a seasoned player or a newcomer to the game, Vizari has something special in store for you. So, why wait? Visit Vizari today and experience the future of soccer shopping! Get ready to elevate your game and look great doing it with Vizari, your ultimate soccer online store.