Guardians of the Goal - Exploring the Excellence of Vizari Goalkeeper Jerseys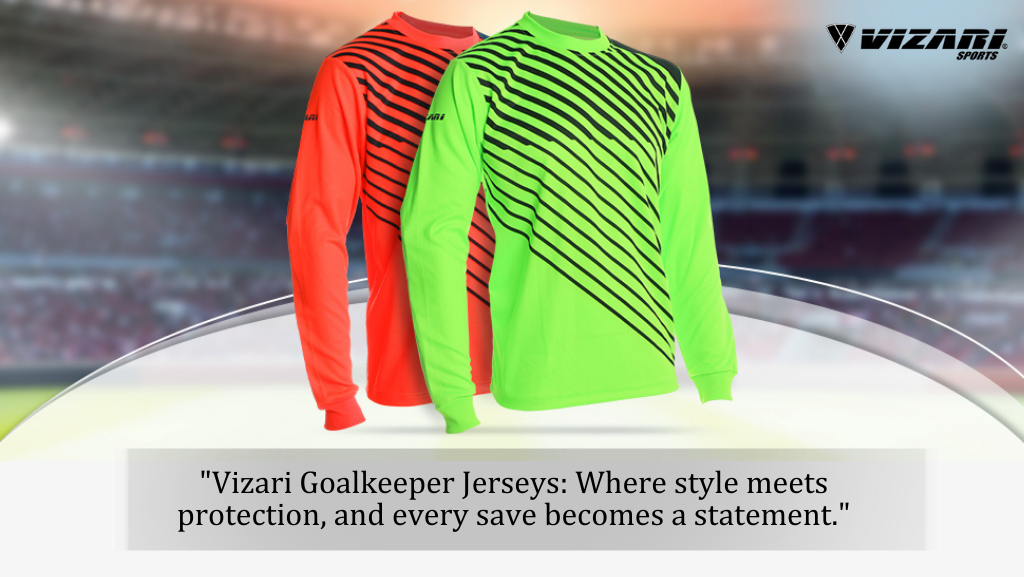 Are you a soccer fanatic? Do you take pride in guarding the goalposts? Well, if you're a goalkeeper, you know that your role is not just about stopping goals; it's about being the guardian of your team's victory. And when you're standing there, ready to dive, to make that crucial save, you need to look the part. In this regard, the Vizari
goalkeeper jerseys
comes into play. In this blog, we're going to explore why
Vizari
goalkeeper jerseys are a game-changer for goalkeepers and why you should consider donning one for your next match.
The Essentials of Goalkeeper Jerseys
Goalkeeper jerseys
are not just regular jerseys. They are a statement of intent, a declaration to the opposing team that you're here to protect your turf. But what makes Vizari goalkeeper jerseys special? Let's dive right into it.
A Unique Blend of Style and Function
When it comes to soccer apparel, style is essential. Vizari
goalkeeper jerseys
understand that. These jerseys are designed not only for top-notch performance but also to make you look good while doing it. The sleek and stylish designs ensure you stand out on the field. Whether it's a vibrant color or a classic black, Vizari has you covered.
Superior Comfort for Peak Performance
Goalkeepers
need to be agile and swift. That's why
Vizari goalkeeper jerseys
are crafted with comfort in mind. Made from high-quality, breathable materials, these jerseys keep you cool and comfortable even during the most intense moments of the game. No more distractions – just pure focus on making that save.
Durability that Lasts
Goalkeepers put their
jerseys
through the wringer. From diving to sliding, it's a tough job. Vizari goalkeeper jerseys are built to endure. The reinforced stitching ensures that your jersey can withstand the rigors of the game, season after season.
Protection When You Need It Most 
Sometimes, goalkeepers find themselves in the line of fire. Whether it's a powerful shot or a high cross, you need protection. You can stay safe while protecting the goal with Vizari
goalkeeper jerseys
, which are equipped with padding in all the right places.
The Perfect Fit 
A jersey that doesn't fit right can be a goalkeeper's nightmare.
Vizari
understands this and offers a range of sizes to ensure you get the perfect fit. We've made it easy to find the right fit to ensure your
jersey
doesn't ride up or become baggy.
Affordable Excellence 
Quality often comes at a price, but Vizari
goalkeeper jerseys
break that mold. In addition to providing top-notch quality, they are also affordable. So, you don't have to break the bank to look and perform like a pro.
A Color for Every Goalkeeper 
Your jersey is your identity on the field. Vizari
goalkeeper jerseys
offer a wide range of colors to choose from. Whether you want to stick to tradition with classic colors or go bold with something eye-catching, Vizari has the perfect shade for you.
Vizari: More Than Just a Jersey 
Vizari
goalkeeper jerseys
are more than just pieces of clothing. They are a symbol of dedication, a commitment to excellence, and a passion for the beautiful game. When you wear a Vizari jersey, you're not just wearing a jersey – you're wearing your heart on your sleeve.
The Psychology of Goalkeeper Jerseys
Psychology plays a significant role in sports. Goalkeepers are often seen as the last line of defense, the protectors of the team's dreams. When you put on a Vizari
goalkeeper jersey
, you're not just dressing for the part; you're adopting the mindset of a winner. It's like putting on a suit of armor before heading into battle – you're ready to face anything that comes your way.
Stand Out to Make a Difference 
In the world of soccer, standing out is essential. When you wear a
Vizari goalkeeper jersey
, you instantly command attention. Your opponents know that you mean business, and your teammates know that they have a guardian angel in the goal. It's not just a jersey; it's a symbol of your commitment to the game.
A Legacy of Excellence
Vizari has been in the game for a long time, and their commitment to excellence has never wavered. They have a legacy of producing top-quality soccer gear that is trusted by professionals and amateurs alike. When you choose Vizari, you're not just buying a jersey; you're becoming a part of a legacy.
The Choice of Professionals 
Professional
goalkeepers
understand the importance of their gear. They know that every piece of equipment plays a crucial role in their performance. That's why many professional goalkeepers choose Vizari goalkeeper jerseys. When the best in the world trust
Vizari
, you know you're making the right choice.
Your Turn to Shine 
Now that you have gained a better understanding of why Vizari goalkeeper jerseys are one of the most popular choices for
goalkeepers
, it is time to make your decision. Whether you're playing in a competitive league or just having a kickabout with friends, wearing a Vizari
goalkeeper jersey
will elevate your game and make you feel like a true guardian of the goal.
Conclusion 
In conclusion, Vizari goalkeeper jerseys are not just pieces of clothing; they are a statement of intent. They combine style, comfort, durability, and protection to provide goalkeepers with the best gear possible. When you wear a Vizari goalkeeper jersey, you're not just wearing a jersey – you're wearing your passion for the game. So, don't wait any longer. Take your goalkeeping game to the next level with your
Vizari
goalkeeper jersey
today, knowing you are ready for those game-changing saves.