The Ultimate Guide to National Team Soccer Balls: Represent Your Country with Pride!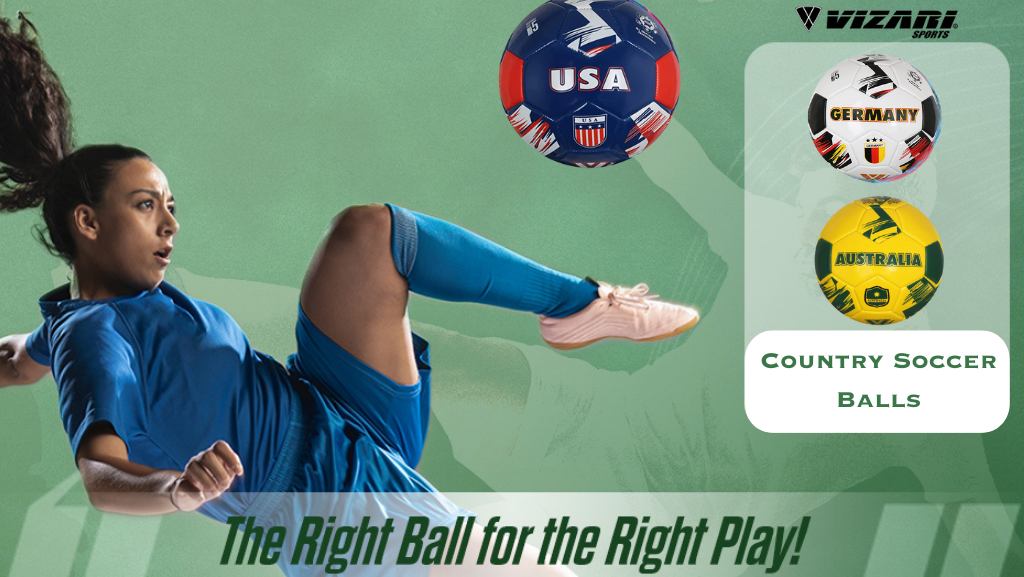 If you're a soccer enthusiast, there's no better way to show your support and love for your favorite national team than with their official soccer balls. These balls are not only a symbol of pride but also crafted with precision to enhance your gameplay. In this comprehensive guide, we'll take a closer look at five top-notch National Team Soccer Balls, each representing a different country: U.S.A Navy, Germany White, Argentina Blue, Mexico Green, and Australia Yellow. Let's dive in and explore what makes these soccer balls so special!
1. National Team Soccer Balls - U.S.A Navy: Embrace the Stars and Stripes!
The National Team Soccer Ball representing the United States features a striking navy-blue design adorned with stars and stripes. This iconic representation of the American flag symbolizes the team's unity and spirit. Crafted with top-quality materials, the U.S.A Navy Soccer Ball offers excellent durability, optimal flight trajectory, and precise control. Whether you're playing on a professional field or practicing with friends, this ball is sure to elevate your performance.
2. National Team Soccer Balls - Germany White: Precision and Perfection!
The Germany White National Team Soccer Ball showcases the nation's commitment to precision and excellence on the soccer field. With its sleek white design and black accents, this ball exudes a sense of elegance. Designed with cutting-edge technology, it provides superior ball control, making it a favorite among professional players. If you aspire to play like the German soccer legends, this ball will undoubtedly be your perfect companion.
3. National Team Soccer Balls - Argentina Blue: Tango Your Way to Glory!
The Argentina Blue National Team Soccer Ball pays homage to the country's soccer heritage and its legendary dance, the Tango. Combining shades of blue with touches of white, this ball reflects the Argentinean passion for the beautiful game. Built to endure intense matches, the Argentina Blue Soccer Ball offers exceptional responsiveness, ensuring that you can dribble, pass, and shoot with precision, just like the Argentinean soccer icons.
4. National Team Soccer Balls - Mexico Green: Unleash Your Inner El Tri!
The Mexico Green National Team Soccer Ball embodies the vibrant spirit of Mexican soccer, with its bold green color representing the lush landscapes of the country. As you kick this ball across the field, you'll feel the same passion that fuels the Mexican national team. Designed for optimal performance, the Mexico Green Soccer Ball delivers remarkable durability and stability, helping you showcase your skills with pride.
5. National Team Soccer Balls - Australia Yellow: Embrace the Kangaroo Spirit!
The Australia Yellow National Team Soccer Ball captures the essence of the Australian national team, known as the Socceroos, with its striking yellow color reminiscent of the golden sun. As you play with this ball, you'll feel the energy and determination that drive the Australian team to victory. Featuring top-tier materials, the Australia Yellow Soccer Ball guarantees exceptional performance on the field, allowing you to dominate every match.
Conclusion: Score Goals and Memories with National Team Soccer Balls
In conclusion, Country Soccer Balls offer much more than meets the eye. They serve as tangible connections between fans, players, and their respective nations, creating a sense of belonging and pride. By owning and playing with one of these prestigious balls, you become part of a grand tradition that spans the globe. So, don't wait any longer – choose your National Team Soccer Ball today and embark on an unforgettable soccer journey filled with goals, victories, and cherished memories!
Remember, your soccer ball is not just a piece of sports equipment; it's a symbol of unity and support for your nation's team. So, kick it with pride and honor, and let the world witness the power of your team's spirit!